Wouldn't kick him out of bed for eating crackers.
So I made my two pumpkin pies last nite though I still dont know what they taste like. I found a great and super-easy recipe on allrecipes.com. If you haven't been there you gotta go! They have thousands or free recipes that are rated by users. In my next life I am gonna be a chef. Maybe ever a celebrity chef. Speaking of celebrity chefs here is one of my faves (next to Alton of course).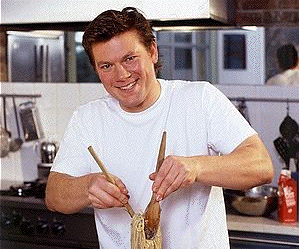 Ahh, Tyler Florence how I lust after thee. I actually ran into him one time when I was in NYC, at Times Square. I was totally floored at how good looking he was in person. I didnt say anything to him just kept on walking though we did make eye contact. Swoon!